In July, besides the scenery and animal watching, I learned more about what happens at the Yellowstone Institute in the Lamar Valley. It's an onsite lab for Yellowstone Forever. There are classes and clinics. Participants get to stay in the primitive cabins, which would be cool.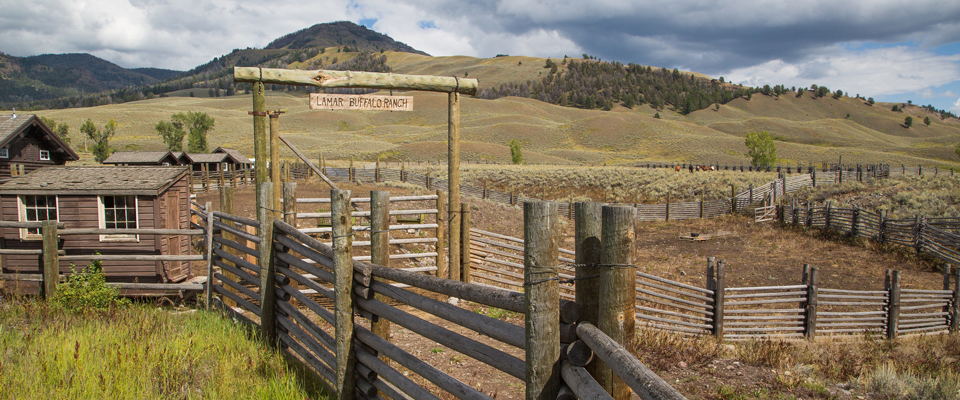 What got me interested in what was going on at what had been the buffalo Ranch, was in July, we saw students walking behind an instructor as they observed and photographed a wolf kill and the reaction of the elk to what had happened. We thought our new telephoto would capture it. It didn't help that it was getting dark but we need an extender and some shoot through spotting scopes. I'll share what we got but you'll have to take my word for it that besides the elk and kill, there are wolves hunkered down in the sage.
Elk are not helpless and wolves have had their jaws broken in attempting taking one down. We did not hear the lecture but bet it was worthwhile as the students learned improved ways to use their cameras.
Here are a few links I came across on what the Yellowstone Institute is about.
So that was cool, and then we came across something else out of Missoula-- Nine Mile ranger Station.
It was created out of a ranch as a Remount Station for the forest service. The buildings, like this residence, were constructed by the Civilian Conservation Corps in 1933-35. They were made to look like New England homes or a Kentucky horse farm. Today, when they need restoring, all has to stay in accord with their original construction. Besides housing, there is a bunkhouse, cookhouse, museum, and the barns.
It is lovely, but more than just pretty, it sponsors annual horsemanship and packing clinics where the trainees learn to and restore mountain trails. Stock continues to be kept there except when in the mountains. It's a working ranch where 4 pack-trains of mules await their next fire call.
When we were there, the mules were out but the parking spaces were full of those who had gone somewhere, whether a fire call, since it has an engine, or on clinics, I don't know but was amazed how many vehicles awaited someone's return.
Nine Mile Ranger Station could have been just another historic site instead it's both that and of continuing use.
The opportunities are cool but more for the young than me-- at least me at this stage of my physical capabilities ;).